Join us for the NDL Public Sector, digital transformation showcase of the year at TechFest-22 on 6th & 7th July.
Join members of the NDL Community to share and learn about the amazing work being carried out across the Public Sector using NDL's Automation and Digital tools. Learn about the innovative approaches being taken by colleagues to solve many of the common challenges facing HealthCare, Local Government & Housing and Policing. Find out how these projects can be applied as part of your business transformation processes, maximising your return on existing systems and NDL investment.
In addition to the wide range of customer presentations, we will also be showcasing the latest developments in the NDL product portfolio. We will explore these through a series of show and tell updates, and hands-on lab sessions, where attendees can use the latest pre-release versions from the Evolve Transformation Platform.
This year, we also celebrate NDL's 40th year working with the UK Public Sector and want to share this milestone with our community. – It promises to be a packed two days, with lots to learn and take away. Find out more about planned sessions and speakers below: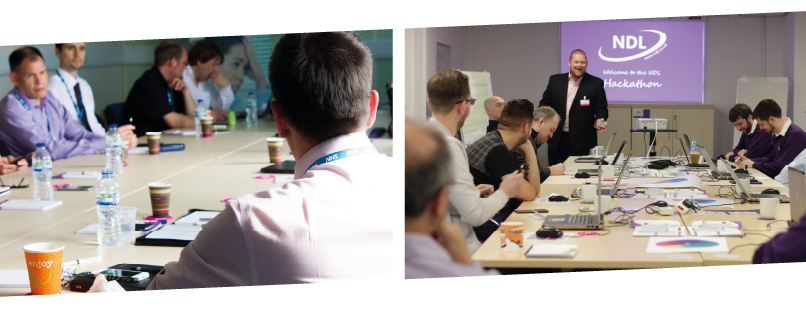 Community Speakers sessions
Hear from customers directly about their project experiences. Their business drivers, implementation methods, challenges, and outcomes. Covering a wide rang of Digital, Automation and full end-to-end Transformations, these sessions will show the art of the possible in the real world. Speakers already confirmed include:
Circle Integrated Care - Looking at Digital and Automation for end-to-end referral management
Mid Yorkshire - The Automation journey showcasing their wide use of Automation to improve data quality, smooth patient pathways and simplify their discharge processes
Humberside and South Yorkshire Constabulary - RPA aiding data quality in modern policing
University Hospitals Morecambe Bay NHS - Building the digital hospital - implementing Digital technologies across healthcare immunisation and pre-operative triage
Midlands Partnership NHS Trust - Utilising mobile apps trust-wide to digitally capture consent for immunisation
Moray Council - End-to-end transformation from mobile to back office, reducing paper, driving efficiency and empowering departments
Newcastle City Council - Integrating Social Care and beyond, bridging the gaps with RPA
Nottinghamshire NHS Trust - Digital ward observations in a secure setting driving clinical insights
Birmingham Community Healthcare - Managing a pandemic via a trust wide approach to eForms
The Royal Wolverhampton NHS Trust - Using complex eForms to create workflows and dashboard integrations
NDL Product Update Sessions
Designed to complement the customer projects sessions, this section is for those who want to understand the art of the possible from a more technical perspective. These are aimed at those with an architectural, process transformation background, rather than needing to be a hands-on engineer. Learn from our experts how you  can take advantage of the technical innovations coming down track in the next 18 months.
NDL Roadmap 2022/23 and beyond - Announcements and updates on NDL roadmap and our direction for the coming years, allowing you to plan ahead and understand the overall direction of travel for the whole Evolve Transformation Suite.
Automate (SX) Update – Offering a detailed view of the SX 'Automate' Roadmap with slides and demonstrations of new features coming in 2022, as well as a product Q&A. This will be followed by an open discussion on community member's needs and priorities to inform our future development.
Hub Update - Launched to all customers in April, we will review the capabilities of Hub, our new queueing and orchestration platform, and examine the next steps in its evolution. We'll also included details of the next feature update pack, as well as seeking feedback for its future evolution.
Digitise Apps (FX&MX) Update – Find out about the roadmap for FX&MX 'Digitise', and how to get the best from new features such as the new web services integration tools, graphs, enhanced text handling and toast elements to build a richer, more compelling Form and App experiences. Have your say; tell us what you want next from this already comprehensive and capable Forms and App creator.
Connect In Person – This is your first chance to see the Connect Web Services gateway technology in action and discover how it simplifies working with Web services without the need for code. We will be covering its use within Apps and Forms and discussing its already extensive roadmap with Community members.
Flow In Action – As with Connect, this is a first chance to see Flow in action! We will cover a detailed view of Flow V1 and its subsequent roadmap with slides and a demonstration of key features as well as a product Q&A.
Intelligent Connections - Building on Connect, we will take a practical look at a range of Cognitive services appropriate to the Digital Transformation journey. How to configure and consume common services from Microsoft Azure, AWS, and Google such as for image recognition, handwriting and form analysis or dynamic routing for appointments. We will discuss the differences between the services as well as exploring how these can be configured in Connect so they can play a part in your wider transformation journey.
Live Labs
These sessions are for a more technical audience with a background in DevOps and who have some direct experience using NDL tools. As these are 'Hands on', places on these sessions are limited to eight and therefore attendees are advised to book early to avoid disappointment. – We will be running each Lab stream multiple times over the two days, however, but each will be on a first come first server basis, so don't forget to register your interest in the pre-event registration information.
Hands on FX - This session is aimed at Form creators at which  NDL experts will demonstrate a range of techniques to get more from your eForms. It will also look at the new features and elements that available as part of FX 1.6 and how to make the most of these. Attendees will be able to use the FX Studio to experience these techniques and elements for themselves.
Hands on with Hub & Flow - In this session, attendees with be introduced to the studio, and will be able to build new processes, either by importing and managing pre-existing QX processes, using the pre-existing Storyboard templates, or creating one from scratch.
Hands On with Connect - Get hands on with the Connect Technology within Forms and Apps.  Attendees will be able to see how to simplify complex web services into 'Connectors' and then understand how to consume them in eForm and Mobile App projects. The session will also look at developing Connectors for popular NHS and Local Government Sector back-office systems and services.
NDL Community Guest Speakers
Register below for TechFest-22 ⬇️
For more event details or if you have any questions about a specific session, please reach a member of the NDL Events Team via events@ndl.co.uk or +44 (0) 1937 543500.
Event Location
The NDL Hub, The Haybarn at Park Hill Business Centre, Walton Road, Wetherby, West Yorkshire LS22 5DZ
This two-day programme has been designed for NDL customers, so whether you have had a product licence for a while or are a new member, all are welcome. Please share this webpage with colleagues so that they too can register.